26-29 AUGUST 2020
Antisocial Festival #4 on fedbook:
---
---
VIDEO FROM HÖGDALEN BIKEWARS I 2019

---
---
BUILD DAYS 22-23 AUGUST
WAR DAY 24th AUGUST
The first ever Högdalen BIKE WARS will take place somewhere in Högdalen (location to be disclosed, but close to Cyklopen) on August 24th 2019 during the ever so epic Antisocial punkfestival! A workshop will be set up from 22nd at Cyklopen. For more info keep an eye on this website or send us an email to nattsvart_verkstad. You can also follow us on instagram @bikewars124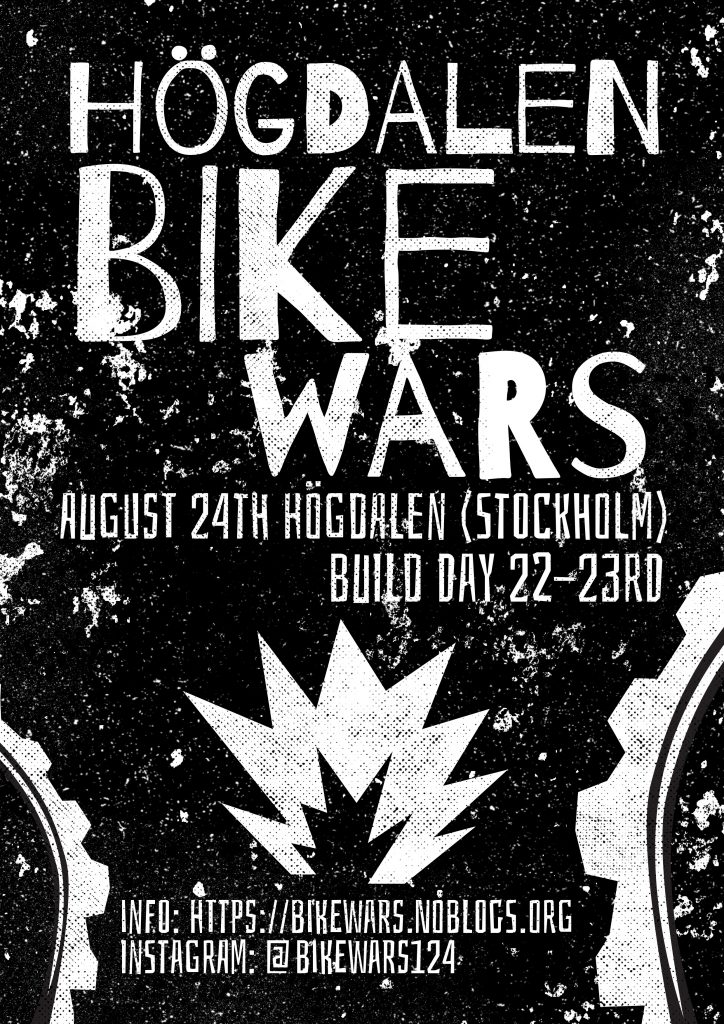 WTF is BIKEWARS!?
Most of this text was stolen from K-TOWN BIKE WARS
In short, Bike Wars is building cool bikes out of scrap metal and ramming them into each other. It's like Robot Wars and Mad Max, but with punx and bikes. So prepare for craziness, this is destruction derby for people without a driver's license!
You should be a part of the next edition of Bike Wars! Compete in the two wheel death match or build 3-wheeled (at least) monster machine for the Monster bike class or why not making a Tall bike and compete in the jousting competition!
If you wish to participate for Bike Wars, just show up at the workshop and get cracking on your build, if you already have one, just show up for War Day at Cyklopen 24th august at 12:00
If you have a trashy bike or some scrap metal you want to bring to the workshop – please do 🙂
There are a few rules for Bike Wars:
Two wheels: last bike rolling wins, no special rules
Tall Bike jousting: 1 on 1 tournament, 2 strikes – you're out!
Monster bike: minimum 3 wheels that touch the ground, last rolling wins!
No pointy stuff. We don't like taking people to the hospital.
Schedule (preliminary):
Workshop open:
Thursday 22nd from 14:00 & Friday 23rd from 12:00
WAR DAY:
Saturday 24th, gather outside Cyklopen at 12:00
ANTISOCIAL FESTIVAL
Bike Wars happens during Sicksounds Antisocial Festival, a two day punkfestival at Cyklopen, More info below: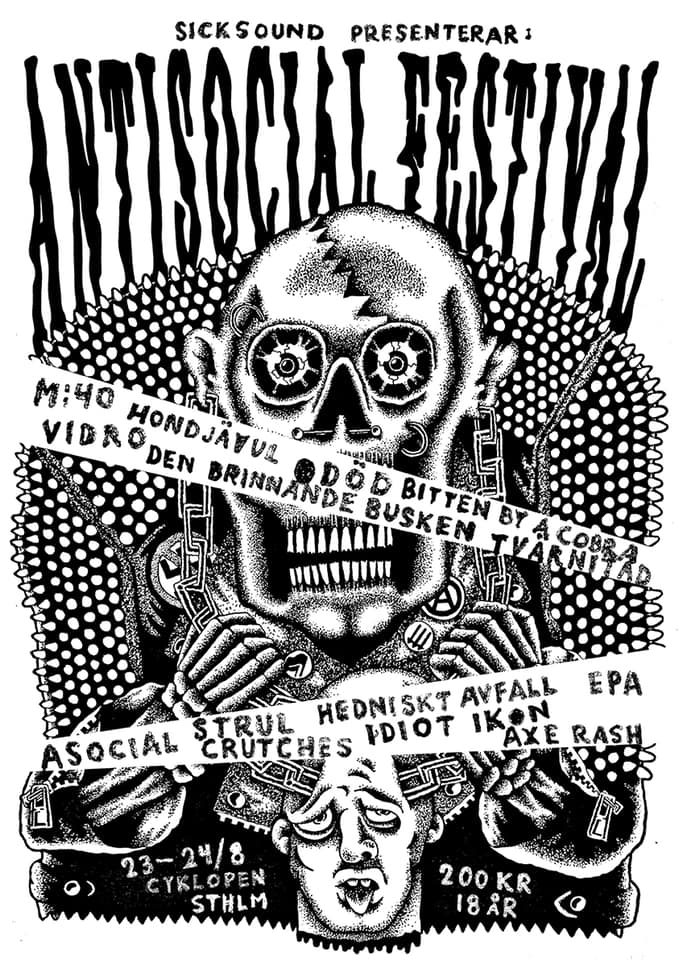 FROM THE FB-EVENT:
Vi på Sicksound styr två magiska dagar av hardcorepunk på vårt favorithus Cyklopen. 14 st band och 100kr per dag.
Då det varit stor efterfrågan så styr vi förköp endast för tvådagars. Mao 200kr.
förköp: antisocialfestival@gmail.com
På scen:
M:40
Hondjävul
Tvärnitad
ODØD
Vidro
Den Brinnande Busken
Bitten by a cobra
ASOCIAL
Strul
Hedniskt Avfall
Crutches
Idiot Ikon
Cartoon Girlfriend
EPA – f.d. Klartgrabbenskahaenepamedsilvertejjp&uffe
Link to the event: https://www.facebook.com/events/504249056768377/